This article contains remote viewing sessions from eight remote viewers and descriptions and video from many more covering the Tunguska event over a forty year period.
Background.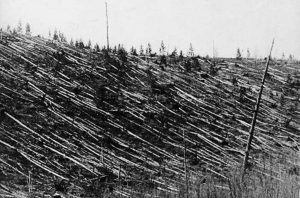 The Tunguska event was a large explosion that occurred near the Stony Tunguska River in Yeniseysk Governorate, Siberia, Russia, on the morning of 30 June 1908. The explosion flattened 2,000 km2 of forest yet caused no known human casualties. The explosion is generally attributed to the air burst of a meteoroid. It is classified as an impact event, even though no impact crater has been found; the object is thought to have disintegrated at an altitude of 5 to 10 kilometres rather than hit the surface of the Earth. The Tunguska event is the largest impact event on Earth in recorded history.
Since the 1908 event, there have been an estimated 1,000 scholarly papers (most in Russian) published on the Tunguska explosion.
Early estimates of the energy of the air burst range from 10–15 megatons of TNT to 30 megatons of TNT. The 15 megaton (Mt) estimate represents an energy about 1,000 times greater than that of the atomic bomb dropped on Hiroshima, Japan.
It is estimated that the Tunguska explosion knocked down some 80 million trees over an area of 2,150 square kilometres and that the shock wave from the blast would have measured 5.0 on the Richter magnitude scale. Due to the remoteness of the location, no human fatalities were officially documented. Several reports have indicated that two people may have died in the event, however these deaths remain unofficial.
The first recorded expedition made it to this remote location a decade after the initial event and ever since the Tunguska event has been shrouded in mystery.
Remote viewing the event.
In August 2017. as part of a Far sight Project I and two other remote viewers were blindly tasked the Tunguska event by Courtney Brown. The project was recorded both in paper than later LIVE on video and white boards.
Unlike previous Farsight projects the remote viewers in this project were split in their reporting of the data. Dick Allgire reported data fully consistent with a comet or meteor. Daz Smith reported data that seems to indicate some kind of non physical/physical vehicle that explodes. Aziz Brown reported data consistent with both of the theories. But this isn't all as this project has been attempted numerous times using the art of remote viewing over the last forty years and all told with split results across times, projects, viewers and varying skill levels.
The videos and more info in available here on the Farsight website
Click here for Daz Smith's paper CRV session for the Tunguska Event for the Faright project before I moved to LIVE whiteboard & video.
Project Star Gate
The earliest Remote Viewing found for this event come straight from the CIA Star Gate archives and includes two CRV training sessions for students Gabrielle Pettingale and Linda A. Linda's is quite short but does seem to grasp the outline of the event. Gabrielle's is longer and does grasp the entire event but does mention some kind of man made which is metallic that may be involved.
Gabrielles RV session is here
Linda A – RV session is here
Another Star Gate remote viewer Lyn Buchanan in his fantastic Book The Seventh Sense (page 135 onwards) also describes being tasked blindly with the Tunguska event. Lyn describes an event that pretty much mirrors the data of myself, of a piloted vehicle that is in trouble and that is forced to self destruct in a remote location.
Private contactors
Some of the Star Gate viewers also worked this target when Ed Dames left the Military and Intel endeavour in the early nineties and setup his own private remote viewing company. In an article on the website Earthfiles, owned by Lind M Howe it called: Using Remote Viewing to Investigate Tunguska Aerial Explosion of June 30, 1908, it stated:
"In his efforts to get more truth about the UFO puzzle, Scott Jones hired a remote viewing group that had originally trained in a classified Defense Intelligence program and later sold remote viewing as as an investigative tool in the civilian world. Scott wanted to learn more about the June 30, 1908 explosion above the ground in Tunguska, Siberia, Russia that incinerated trees in an 18-mile diameter circle around ground zero. Whatever blew up was so strong that beyond the 18 mile burned circle, thousands of trees were knocked down over a 25 mile radius. If the explosion had occurred over a populated city, the effect would have been catastrophic for all the people living there.

To date, the most common hypothesis has been that a large meteorite blew up above Tunguska in 1908. But when Scott Jones had the remote viewers, lead by Ed Dames, concentrate on the historic event, they got a different answer.

Scott Jones: "Three out of five remote viewers came up with UFOs, a ship in trouble. There was an explosion ­ perhaps the demise of a ship having real technical difficulties."
Ten Thousand Roads (2006) Tunguska training target
The next time I could find any references to this project within the remote viewing community come from within a well know RV practice and discussion website owned and run by PJ Ganier called Ten thousand Roads.
The RV sessions are not available but from the discussions of the practising remote viewers it seems like they picked up data that matched the explosive event with some of the data that may indicate some kind of vehicle or UFO. Like all other Rv attempts on this target the data seems mixed.
Remote viewer Marv says:
"That was a tricky one for me as I forced myself into UFO-lockdown mode the minute I drew that firey object above the planet in my first S3 sketch. So hard not to go `YAY we got a UFO target here!` and blow the whole thing…  :-/

From then on I was trying my damnedest to allow NOTHING by way of visual image to come through, trying instead to `sense` it all as pure descriptor data to avoid AOLing.

As such I may well have barred the way to data that may have leant itself to an alternative `non-meteor` hypothesis. Certainly there`s some questionable bits in my session such as the odd impression of two lifeforms in what I could only describe as a `library` and I left out some early references to machinery. Also some odd emotional stuff in there."
Tunde another well known remote viewer responded with:
"Hi Marv,
Thats what the AOL procedure is for, just declare
your aol's of ufo's and keep going on. You must write everything you get and in the appropriate stages.
If your not using a formal method write down those
nagging impressions anyway and probe or question them the deeper you go in the session. Having said all
that i think that was one of the best sessions ive seen
on Tunguska.

I tasked some viewers the same event some years
back and they mostly got that weird energy feel you
picked up on. I don't think it was a meteorite based
on the data i saw.

T"
(click here for the thread on TKR)
April 2014 – Tunguska (training) target on TKR
On the same website Ten thousand Roads in 2014, I tasked a small group of trainee CRV students with the Tunguska event. Five trainee remote viewers attempted the target and their sessions are available to view/download from within the threaded conversation.
These remote viewers seems to get at least some good target contact and some of the sessions to me seem to have a mix of data that is at times on target for the whole event but that also have a mix of data for both a natural event and elements of some kind of man made involvement.
(the five remote viewing sessions and my target feedback and cueing can all be found in the thread link – here)
So where does this leave us:
No more the wiser and  it's still an enigma. Across forty years, across multiple projects involving remote viewers from inside and outside the Star Gate effort and onto this exciting new video presentation from the Farsight Institute, I would say that the data is still pretty mixed.
In my opinion ( and It would based on my recent Farsight data) the data seems to land more on the side of a vehicle/UFO type explosion, but it is in no way clear across the board and across many different skill levels, projects, beliefs, taskers & taskings. All we can do with remote viewing of this kind and in light of insufficient confirmatory feedback is to present the data and to let you make up your own minds.
Sources:
---
http://farsight.org/FarsightPress/Tunguska_Farsight_Project_main_page.html
https://en.wikipedia.org/wiki/Tunguska_event
The Seventh Sense – Lyn Buchanan – pg 135 onwards
Earthfiles.com – Using Remote Viewing to Investigate the Tunguska Aerial Explosion of June 30, 1908
TKR practice target 2006 – http://www.dojopsi.info/forum/index.php?topic=2062.0;nowap
TKR practice target 2014 – http://www.dojopsi.info/forum/index.php?topic=8412.msg58088#msg58088