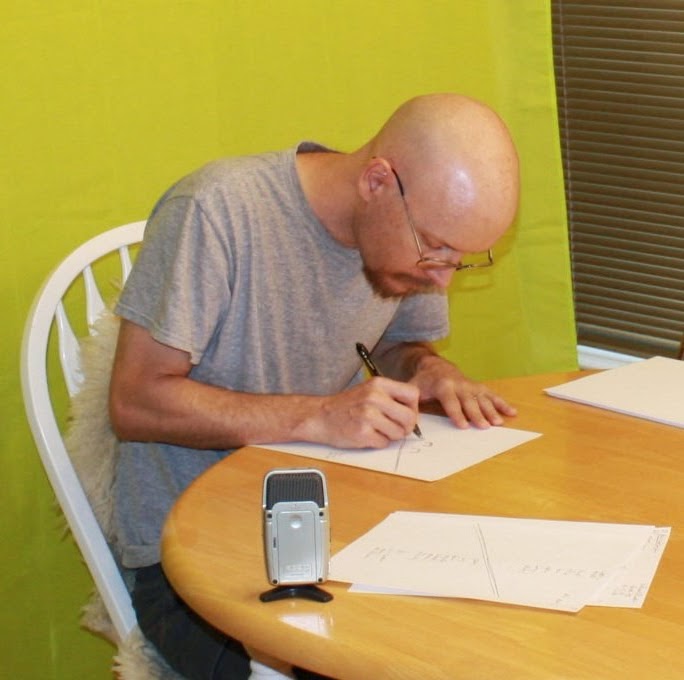 Edward Riordan was born on the south side of Chicago in the early morning hours of January 13, 1969. His interest in remote viewing began in 1996 after watching a documentary called "The Real X-Files" that featured the newly declassified military remote viewing program. In 1999 he acquired the original Psitech remote viewing training program and began a learning process that has continued to this day. In January 2002 Edward attended a remote viewing training program with former military remote viewer Ed Dames and his training partner at the time FM Bonsall. Edward continued training with FM Bonsall via online training and mentoring for another 11 months. For the next 8 years he maintained an active remote viewing practice, working with a small team on various projects both public and private.
After moving to Austin Texas in early 2011, Edward started the Austin Remote Viewers Meetup group and quickly joined forces with the well respected INACS (Institute for Neuroscience and Consciousness Studies), where he leads the bi-weekly Meetup at the INACS office in North Austin and serves on their board as Associate Council.
In 2011 Edward was contracted to participate in a series of filmed remote viewing projects for Transception Inc. an R&D based company that utilizes remote viewing for technological and other endeavors. One of the projects included remote viewing the strange anomaly found at the bottom of the Baltic Sea, Edward's session was noted to have some very interesting data and sketches that were featured in various articles on the internet. Edward fast became friends with Transception owner Jerry Harthcock and continued doing filmed remote viewing projects on various targets and posting them on the web.
Utilizing video has become a major focus in Edwards remote viewing work, as he states "you really don't know what remote viewing is until you see it in action, words really can not explain it. You have to see it to really start to get it." In 2012 Edward started videotaping many of his sessions and posting them on both his website www.erviewer.com and his YouTube page http://www.youtube.com/user/erviewer. He states " My goal is to post 500 videos of myself remote viewing, I feel that will be my overall contribution to the field".
Since moving to Austin Texas, Edward has had the great fortune of meeting and training with Controlled Remote Viewing instructor and former military remote viewer Paul H. Smith. An association that has greatly impacted Edward's remote viewing experience.
Outside of remote viewing Edward has trained in and holds certificates in Kundalini yoga, Reiki, hypnotherapy and tarot card reading and has spent many years involved in various esoteric practices.
As he puts it "I'm an explorer and life long learner in remote viewing. There's always an opportunity to learn something new and that keeps me inspired and intrigued."

Edward can be contacted here.
Edward's Youtube video channel is here.
Enclosed below are some examples of Edwards Remote Viewing that he would like to share.
Edward Riordan Remote Viewing Examples
Unidentified Hubble Object
Images taken by Hubble between January 25 and 29th 20 I 0 of a mysterious X-shaped object travelling at II,OOO mph.
(Video below of the RV session)
Mayan Pyramid Light Beam photo
in the third photo, a powe1ful beam of light appears to shoot up from the pyramid toward the heavens, and a thunderbolt flashes in the background.
(Video below of the RV session) Download session here:
The Louvre Pyramid
The Louvre Pyramid is a large glass and metal pyramid , surrounded by three smaller pyramids, in the main courtyard of the Louvre Palace in Paris. The large pyramid serves as the main entrance to the Louvre Museum. (Video below of the RV session). Download Rv session here:
President Richard Nixon
Born on January 9, 1913, in Yorba Linda, Califo rnia, Richard Nixon was a Republican congressman who served as vice president under Dwight D. Eisenhower. Nixon ran for president in 1960 but lost to John F. Kennedy. Nixon then won the White House in 1968. 1n 1974, be resigned rather than be impeached for covering up illegal activities of party members in the Watergate affair. He died on April 22, 1994, at age 81 in New York City. (Video below of the RV session). Download RV session here:
Amelia Earhart
Born July 24, 1897 – disappeared July 2, 1937) was an American aviation pioneer and author. Earhart was the first female aviator to fly solo across the Atlantic Ocean. She received the U.S. Distinguished Flyers Cross for this record. She set many other records, wrote best-selling books about her flying experiences and was instrumental in the formation of The Ninety-Nines an organization for female pilots. (Video below of the RV session). Download RV session here:
George Harrison
Born on February 25, 1943, in Li verpool, England, George Harrison formed a band with schoolmates to play clubs around Liverpool and in Hamburg, Germany. The Beatles became the biggest rock band in the world and Harrison's diverse musical interests took them in many directions. Post-Beatles, Harrison made acclaimed solo records and statt ed a fi lm production company. He died of cancer in 2001. (Video below of the RV session) Download RV session here:
Ayn Rand
Born February 2, 1905 in Saint Petersburg , Russia. Ayn Rand was an American noveli st, phi losopher, playwright, and screenwriter. She is known for her two best-selling novels, The Fountainhead and Atlas Shrugged, and for developing a philosophical system she call ed Objectivism. (Video below of the RV session). Download RV session here:
Rosa parks
Civil rights activist Rosa Parks was born on February 4, 1913, in Tuskegee, Alabama. Her refusal to surrender her seat to a white passenger on a Montgomery, Alabama bus spurred a city-wide boycott. The city of Montgomery had no choice but to lift the Jaw requiring segregation on public buses. Rosa Parks received many accolades during her lifetime, including the NAACP's highest award. (Video below of the RV session). Download RV session here:
City of Mecca
Mecca, also transliterated as Makkah, is a city in the Hejaz and the capital of Makkah Province in Saudi Arabia. According to Islamic trad ition, the history of Mecca goes back to Abraham when he built the Ka'aba with the help of his son Ishmael around 2000 BC. Mecca is also home of the second tallest building in the world, The Abraj At-Bait Towers, also known as the Mecca Royal Hotel Clock Tower, is a government-owned building complex in Mecca, Saudi Arabia. (Video below of the RV session). Download RV session here: