In 2013 Courtney Brown at the Farsight Institue was approach by a TV company with an idea for a TV series. This culminated in a project for the TV company which was in part filmed LIVE on camera. The target turned out to be the infamous Oak Island Money Pit. I (Daz) did two Rv sessions for this project a kick off session to 'get me there' then a second session recorded LIVE on camera. Both of these are enclosed in the pdf file below.
I was reminded of this project due to a breaking news story this week which discussed: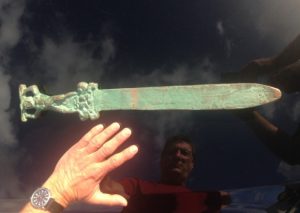 //Now historic investigator J. Hutton Pulitzer, who previously featured on the show, has put a large white paper together with a group of academics from the AAPS (Ancient Artifact Preservation Society).
He claims to have evidence of a Roman sword found submerged just off Oak Island – and what is believed to be a Roman shipwreck.//
– source: http://tinyurl.com/zuwbm3h
My data indicates a small team of men who trvelled a distance to get to the location, working as a team, a military feel to them and they carried edge based weapons…. and much, much more.
Check out the pdf file below for the remote viewing data in full.
[fusion_builder_container hundred_percent="yes" overflow="visible"][fusion_builder_row][fusion_builder_column type="1_1″ background_position="left top" background_color="" border_size="" border_color="" border_style="solid" spacing="yes" background_image="" background_repeat="no-repeat" padding="" margin_top="0px" margin_bottom="0px" class="" id="" animation_type="" animation_speed="0.3″ animation_direction="left" hide_on_mobile="no" center_content="no" min_height="none"][fusion_tagline_box backgroundcolor="" shadow="yes" shadowopacity="0.5"border="1px" bordercolor="#c8c7c7″ highlightposition="top" link="/wp-content/uploads/2015/12/Oak-Island-Money-Pit-remote-viewing-project.pdf" linktarget="_blank" button="Download Pdf" title="Remote Viewing the Oak Island Money Pit" description="As Part of a LIVE on camera Rv test as a test pilot ofr a TV series part of this rv project was performed LIVE on camera – the target was the infamous Oak Island Money pit."][/fusion_tagline_box][/fusion_builder_column][/fusion_builder_row][/fusion_builder_container]