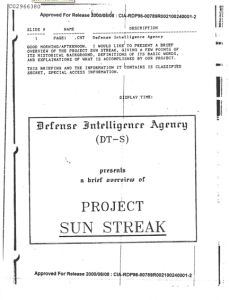 Thanks to Dr Hal Puthoff for bring this to my attention.
Washington, D.C., November 20, 2015 – The Defense Intelligence Agency, established in 1961, is one of the United States government's largest intelligence organizations – employing 17,000 individuals, including thousands stationed overseas. Its 2013 fiscal year budget request was for $3.15 billion. Yet, the DIA is also one of the more secretive agencies in the U.S. intelligence community, regularly denying access to basic information about its structure, functions and activities. Today the National Security Archive posts a new sourcebook of over 50 documents, many appearing for the first time, that help to illuminate the DIA's five-decades-long history.
DIA's "psychoenergetics" activities.