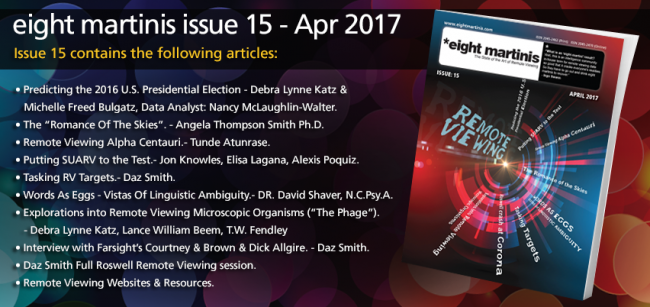 – Predicting the 2016 U.S. Presidential Election – Debra Lynne Katz & Michelle Freed Bulgatz, Data Analyst: Nancy McLaughlin-Walter.
– The "Romance Of The Skies". – Angela Thompson Smith Ph.D
– Remote Viewing Alpha Centauri.- Tunde Atunrase.
– Putting SUARV to the Test.- Jon Knowles, Elisa Lagana, Alexis Poquiz.
– Tasking RV Targets.- Daz Smith.
– Words As Eggs – Vistas Of Linguistic Ambiguity.- DR. David Shaver, N.C.Psy.A.
– Explorations into Remote Viewing Microscopic Organisms ("The Phage").- Debra Lynne Katz, Lance William Beem, T.W. Fendley.
– Roswell – Interview with the Farsight team Courtney Brown & Dick Allgire.- Daz Smith.
– Daz Smith Full Roswell RV session.
– Remote Viewing Websites & Resources.