Target Coordinate: 3000/3003
Viewer: viewer1. 3.3.1998.
Tasking: Machu Picchu - Peru. Past. Describe the target.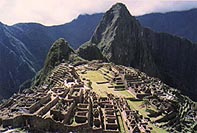 Stage:1 Consisted of 3 Ideograms:
1: A: Across, down, up Hard
B: Structure
2: A: Across, down, curv up, across.
Solid.
B: Objects
3: A: Across, up, down, up, down, up, down
Moving.
B: Water.
Stage:2
T1: Hard, soft, moving, small, slippery, shiny.
T2: Hot.
V: Colors- Red, yellow, greens (light and dark), browns, blues.
Lum - Medium.
Contrast - High.
T3: Salty, mixed with something.
O: Distinctive, nose clearing, bleach.
D: H- Long, low, flats. V- Mixed sized, many, bunched and regular. D- Yes some
MSDV: Wide, open, boxed, square, hollow.
AI: Feels interesting, conflict of elements.
Stage 3: (Sketch 1)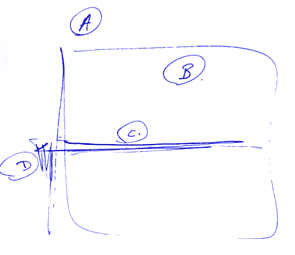 A: Open, space.
B: Solid, hard, angular, angled structure, grey.
C: SLinear, repeating stepped, hard.
D: Cold, strong, hard interacting and connecting.
Above target sketch and describe.
(Sketch 2)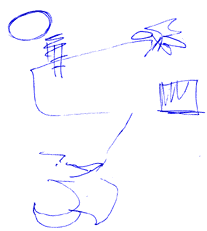 Shapes and form connected by elements, structures and sub-structures.
Stage 4:
Hard, long, drawnout surface, cool, blue, grey, tall, angled walls
Clean, musty air.
(taste) Cold, dusty, tangy, sulphuous, surface, Hollow, distant, ringing AOL-B-phones!
(Sketch 3: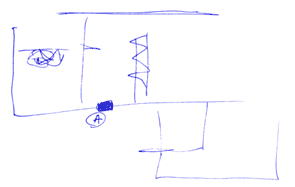 Structured, confined, walled, buildings, busy, workplace energy, importance
A: Hard dark tall boxed controlling machine.
EIís Surprise naughtiness extreme Dís Everything is linear long leading lines forcing the eye or view. White solid long low slats.
At the target centre describe: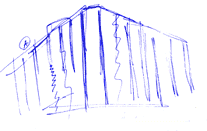 Tall grey solid angled structure gritty surface cold large heavy solid AOL-B Hotel!
Summery of target session:
A building is the target. The target is solid and heavy on a large scale. Many rooms and areas with different feelings and subjects within each. Alot of lined parallel elements at the target site The target felt very large on many levels, with allot of activity from people. Trees and vegetation on the outside of the target acted as a protective element and as asthetic reasons. At one edge of the target traffic is visable. The buildings are cool, with cool colours maily grey and or blue (light sky).